Fall Protection, Ladders & Safety Leadership Course
Werner is the leading provider of climbing equipment in the United States. They manufacture a complete line of professional-grade products suitable for the most demanding job sites. Seemingly every year, the leading cause of death, injury, and cited OSHA violations are related to falls. Werner comes prepared with a professional team of trainers emphasizing the need for proper training, and dedication to a culture of safety. Safety Leadership training is essential for Safety Directors, Superintendents, Project Managers, Foreman and anyone who wears or works with this equipment as part of their daily job! What you will learn:
Ladders Safety
Select the right ladder for your job
Properly inspect your ladder and perform inspection on ladder inventory
Handling and transporting your ladder to prevent damage to the ladder or personal injury
Know the right way to use your ladder safely
Fall Protection
A, B, C's of fall protection
Anchors
Body Harness
Connecting devices
Regulations relating to all fall protection topics.
Fall hazard survey and fall protection procedures.
Fall protection rescue procedure.
Fall protection system assessments and determining when a system is unsafe.
Tripod demonstration – "Walk it Down"
Understand the components of the harness
Understand the performance value of each component
Understand how to properly wear a harness
Understand how the harness performs dynamically in a fall
Understand how to identify incorrect harness wear across the jobsite
Understand how to begin self-rescue after a fall – "Chair in the air"
Safety Leadership
Responsibilities as a Safety Directors, Superintendents, Project Managers and Foreman of individuals working at heights.
Understand how to effectively share this knowledge with your teams.
Ignorance and Laziness kills – education and leadership saves
When it's time to climb, pros look to Werner for the solution!
ON MORE TRUCKS AND JOB SITES THAN ALL OTHER LADDERS COMBINED
Focusing on end users' needs drives Werner's success. Our entire product design process—from engineering to manufacturing—creates a climbing system that ensures productivity, durability and safety for the user. On jobsites across America, Werner is preferred more than any brand because innovation, safety and durability are built into every product.
PRODUCTIVITY
Werner designs products that increase productivity. For example, multi-functional tops on stepladders and comfortable "D" shaped rungs on extension ladders increase efficiency to get the job done in less time.
DURABILITY
A heritage of product developed to meet the rugged demands of the professional. Werner ladders have a reputation of being the most durable ladders on the jobsite. Solid solutions for any job.
SAFETY
From start to finish, Werner is in control throughout the entire manufacturing process and uses only the highest grade raw materials to craft our products. The result is safe, quality climbing equipment that users have come to know and expect from Werner. Whether it's our constant product testing or building an extension ladder that doesn't twist, you can be assured Werner always has your safety in mind.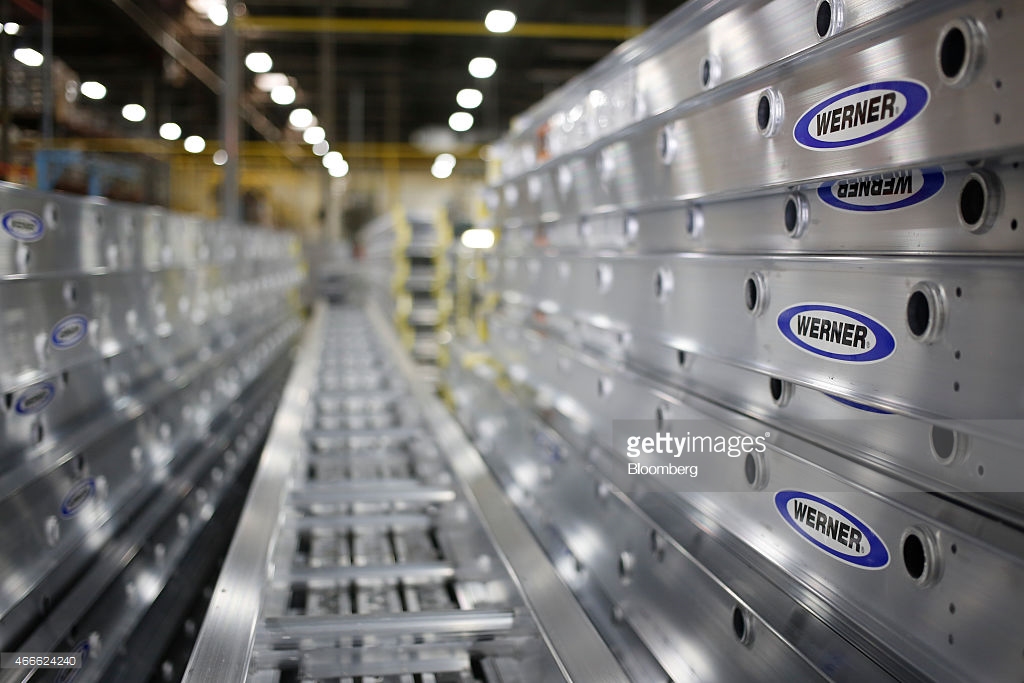 FULL-LINE SELECTION
In addition to traditional ladders, Werner manufactures a full line of professional grade stages, planks, scaffolding, specialty ladders and ladder accessories. From 2 feet to 60 feet—and everything in between—Werner makes a ladder for any job.
Please complete the information below for additional information.