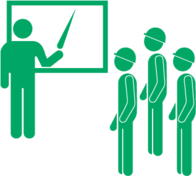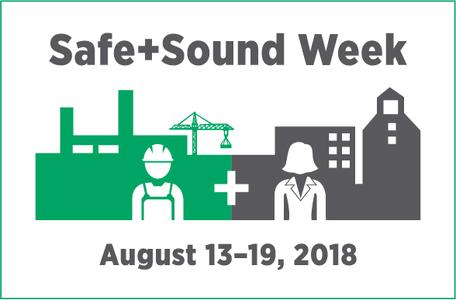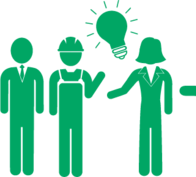 The Safe + Sound Campaign is pleased to announce its first free, live webinar on safety and health programs. We encourage you to share this opportunity for learning with your network. You can get in touch with us at safeandsoundcampaign@dol.gov if you have any questions.
Join the Safe + Sound Campaign on Wednesday, February 21st at 2:00pm EST for a free, live webinar presented by CPWR: The Center for Construction Research and Training. Learn more about two resources, the Foundations for Safety Leadership (FSL) program and the Safety Climate Assessment Tool (S-CAT), which can be adapted to any industry to support efforts to develop effective safety leaders and create a strong safety climate.
The Foundations for Safety Leadership (FSL) program, a free, OSHA 30-hour approved elective released in January 2017, has already been used to provide thousands of construction foremen and other lead workers with safety leadership skills and information. The Safety Climate Assessment Tool (S-CAT) website and free online resource allows contractors and their employees to assess and find ways to improve the safety climate at their worksite.
Presented by:
Andrew Levinson, Deputy Director, OSHA Directorate of Standards & Guidance
Linda Goldenhar, Director, Evaluation & Research, CPWR
Tom Shanahan, Vice President of Enterprise Risk Management, National Roofing Contractors Association
Keith J. Vitkovich, Executive Director, Roofers & Waterproofers Research and Education Joint Trust Fund
Show Your Workers You Care by Committing to
Safety and Health
Do you want to show your workers you care, but are not sure where to start? To help demonstrate your commitment to a safe workplace and sound business, check out these resources:
OSHA's new fact sheet, Safety Walk-Arounds for Managers, provides suggestions for conducting inspections that can help you evaluate the effectiveness of your current safety and health efforts and communicate directly with workers about hazards in their jobs.


The National Safety Council's article, Speaking of Safety: Changing the Atmosphere Around Safety Conversations, helps managers engage in effective safety conversations with workers at all levels. 


The Safe + Sound Campaign's first live, free webinar (limited space available), Tools for a Successful Workplace Safety and Health Program, highlights resources you can use to become an effective safety leader and create a strong jobsite safety climate. This webinar will be hosted by CPWR: The Center for Construction Research and Training on Wednesday, February 21 at 2 p.m. EST and a full recording of the presentation will also be available following the event.