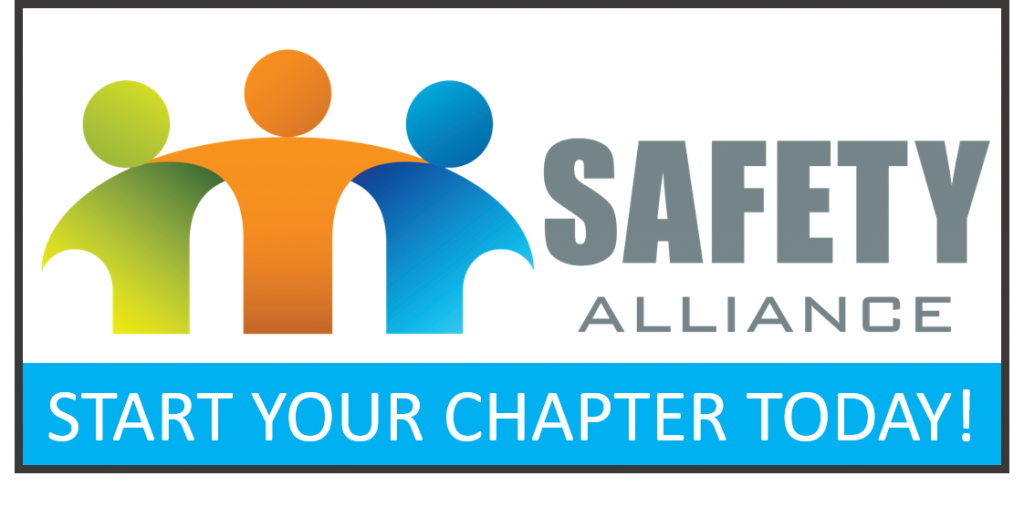 For almost every association in existence today, there was a beginning moment when a group of people banded together for a common purpose and declared, "We need our own association". The following information will lay the foundation for creating a successful Safety Alliance chapter in your area.
The Safety Alliance was established August 1, 2012 in Miami Florida by David Wessin who has almost 40 years of experience in the field of safety.  From its inception, the Safety Alliance has worked diligently to grow its membership to become one of the largest, and most prestigious, safety & health organizations.  In addition to Miami, in 2017, the Safety Alliance established over a dozen chapters in Florida and in 2018, we expanded to Texas and also established our first international chapter in Puerto Rico. As we continue to expand, we will establish more chapters both nationally, and internationally, over the next several years.
Safety Alliance meetings are a tremendous resource each month for not only safety, risk and other professionals representing many industries and businesses in your area but also owners, presidents, project executives, supervisors, managers and employees. Other professionals attending our meetings represent insurance industries, law firms, safety vendors, OSHA, local colleges or universities and others who work to support and promote safety. The success of Safety Alliance can be attributed to proving free meetings, free membership and no politics! We are simply able to provide an open forum each month for participants to share their safety successes or seek assistance if they have a particular safety issue they need help with. We also provide members with valuable information and materials at our monthly meetings. 
Safety Alliance Mission Statement
"People passionate about safety, dedicated to sharing their ideas and experience, mentoring members and fostering relationships with OSHA and educational partners to improve workplace safety". A mission statement is usually supported by written objectives and goals. Objectives are further explanations of ideas touched on only briefly in the mission statement. Goals are far more specific, usually measurable actions that your Safety Alliance chapter plans to undertake over a defined period of time.
It is the responsibility of each Safety Alliance chapter to determine their respective objectives and goals (financially and growth) that are most beneficial to your membership, but these objectives and goals must be designed to support the mission statement of the Safety Alliance. 
Building your Safety Alliance Chapter
Establishing your Safety Alliance Chapter is much like starting your own business. It requires hard work, dedication, and careful planning. As people band together for a common goal, safety, they realize they can achieve far more collectively than by working alone.
When establishing your Safety Alliance chapter, the first step is to identify a core group of individuals to serve and help you spread the word about the organization. These men and women should be chosen with care and should share the same passion and desire for safety and organizing the new chapter. It is particularly important that you identify recognized community leaders, because an effort spearheaded by such luminaries will gain immediate notice, credibility and help to ensure an immediate following during this important start-up period. We also encourage you to contact your local OSHA office, or other governmental agencies, involved in the planning process with your Safety Alliance chapter along with support from local colleges and universities.
In establishing your core group of individuals, also consider the ability of those chosen to make a commitment of time, and energy establishing your Safety Alliance chapter. Once your core group is set, the real work begins. Various tasks may be delegated by the Chapter President to certain individuals of this group and reported on when the group meets, if they elect to do so.
So, what's the next step? First, you must assemble a database of contact names and email addresses in your area, store them on an excel spreadsheet and forward them to our corporate office. This database is extremely critical to the organizations success because it will continue to grow as your membership grows.  You may also choose to ask some other associations or committees in your area to share their contact lists or start with contact names and email addresses from members of the organizing committee and grow your database from there.
Secondly, you must select a location, and day of the month, to conduct your monthly meetings that should be approximately two hours in length.  Two hours has proven to be a good length of time for Safety Alliance meetings with a timeframe from 8AM to 10AM, or you can decide what time works better for your members and your chapter.  You might have a free venue in your area, or one at a minimal cost, to accommodate your Safety Alliance meetings and training courses.  Besides a meeting space you will also need; chairs, tables, a podium, screen, projector and computer to conduct your meetings.  If you plan on renting a conference room at a hotel for your meetings, then you will need to generate additional revenue to pay for this expense which we will discuss shortly.  
Third you must select a speaker for your meetings each month, a person or company who can provide an interesting presentation that is relevant to the group.  Once a speaker has been selected and prior to your scheduled meeting, you will initiate an email to the corporate office with information regarding the speaker and title of the presentation.
Finally, you will need to draft your agenda each month and provide a sign-in sheet for your meeting.  Your sign-in sheet will become a valuable piece of information for your organization and must be forwarded to our corporate office immediately following each monthly meeting.  This information will be reviewed, and member information will be added to your Safety Alliance chapter page.  You may also elect to forward a copy of the sign-in sheet each month to the company or organization that provided the presentation for your meeting.  This marketing tool gives them an opportunity to contact members about their services or products.
The Organizational Structure
It is important to discuss this issue with an attorney, particularly regarding the laws of your state regarding incorporation if you choose to do so.
Financial Support
How will your organization be financed? Serious thought must be given to this issue. Funding should be an obvious concern to cover expenditures and other member services.
The Safety Alliance is structured financially so that you don't need to charge members a yearly membership fee or dues.  The growth, and success, of each Safety Alliance chapter has been contributed to allowing people to attend each month, at no cost.  When individuals are burdened with the expense of membership fees, they are less likely to participate.  So how will your Safety Alliance chapter raise income to cover expenses?  Your Safety Alliance chapter will be structured to collect annual sponsorships from companies, organizations and individuals.   Your sponsorship structure should meet the growth demands of your organization, generate adequate income and lead to accuracy in reporting. It should also be easy to attract new sponsors each month.
There are six levels of annual sponsorship established for Safety Alliance chapters; National Partner - $15,000 or (National Agreement), Corporate Partner - $5,000, Titanium Sponsor - $2,500, Platinum Sponsor - $1,000, Gold Sponsor - $500 and Silver Sponsor - $250.
After estimating probable sponsorship income, identify all other sources of potential income for your Safety Alliance chapter. Once your Safety Alliance chapter is established, we will help you to conduct certain seminars and training courses each month. You can design safety services that are unique to your Safety Alliance chapter that can provide additional revenue for your organization.
A realistic budget should be carefully constructed and include a contingency fund for shortfalls. Regardless of the availability of this kind of funding, you must look down the road to the time when these funds could be expended. You are responsible to begin soliciting businesses for sponsorship opportunities for your chapter.  Safety Alliance sponsors can go directly to the Safety Alliance website www.safetyalliance.org, select their sponsorship level and make their payment online by credit card or they can request to be invoiced. Sponsors may also complete a sponsorship application and email it directly to info@safetyalliance.org. 
Once new sponsors have been invoiced, and sponsorship fees collected for your chapter by the corporate office, we will issue checks to each chapter on the 15th of each month.  Sponsorship collected is used by the corporate office to host and maintain the Safety Alliance website, publish the Safety Alliance Weekly Review newsletter, marketing materials, marketing materials and other related administrative costs associated with promoting Safety Alliance Chapters.
When the Safety Alliance chapter receives a completed Sponsorship Form from an organization, we will immediately invoice your new sponsor.  Sponsors have the option to either pay by check or credit card.  Payments are processed online using PayPal and they appear as a direct charge from PayPal.
Management Options
Your Safety Alliance chapter is shaping up, and now that the structure is in place, you must choose a method of management. In general, your Safety Alliance chapter will be an organization of members.  Start-up organizations often choose to be managed by the Chapter President or you may elect someone to act as the Chairperson. Members have an immediate, and personal, understanding of the needs and issues of the Safety Alliance chapter.
Another option is to have volunteer(s) like retired safety professionals. Retired members will provide stability in the organization but must frequently rely on the members for services such as writing or producing the fliers and agendas.
Once your Safety Alliance chapter grows and prospers, you might look at establishing a permanent, physical location, meaning a fully operational office staffed by full-time professionals and support employees. Obviously, this is an expensive endeavor, but it has advantages.
Final Details
Some final details in setting up your Safety Alliance chapter could include things like applying for a federal I.D. number, establishing bank accounts and more.
There is one more administrative task that you might consider doing, although it's not required, before conducting your first Safety Alliance chapter meeting, and that is obtaining professional liability insurance. Consult with an attorney who may attend your meeting or someone in the insurance industry for further clarification.
Conclusion
After a time-consuming, labor intensive effort, the initial work is finished for your Safety Alliance chapter. Most people find the birth of a new organization to be extremely rewarding, due to the fact, that as the organization prospers in future years, you and your core members will have the satisfaction of knowing that much of that success is due to the careful planning and decision making of the group.
We personally wish you, and your members, success establishing your Safety Alliance chapter.  We are committed to your success and the success of your Safety Alliance chapter. We are committed to continuing to grow our organization both nationally and internationally and we will serve as a resource to support every Safety Alliance chapter and their efforts promoting safety throughout their communities!
Yours in safety,
David Wessin, Founder/CEO